As busy marketers, we want to make our content work as hard as it can, right? If there's any way you can make a single piece of content do double- and triple- duty, then you're all for it. Your content is much more valuable than just as a single-use item.
But beyond the usual, "turn a blog post series into an eBook" idea, let's take a look at 4 ways clever marketers repurpose content.
4 ways clever marketers repurpose content
1. Turn massive emails into blog posts
Never waste a good conversation by having it in private. – Andy Crestodina
This idea came straight from the mind of Andy Crestodina over at Orbit Media Studios. People email him all the time with questions about SEO, blog design, and content marketing, and Andy being Andy, he dives right in. He writes these MASSIVE responses to the questions that can be 2,000+ words long! I'm sure most marketers have these kinds of emails floating around (maybe not ones with 2K word responses, but good responses to great marketing or product questions.)
Andy's secret is the step where we all fall behind. Whenever Andy gets one of these emails and he responds, he tags it with a special flag in his inbox. That way, whenever he needs an idea for a blog post or eBook, he just goes to that tag/category and pulls up the email. Voila! With a bit of tweaking, a few images and backlinks, and a copyedit/proofread later, Andy's got his repurposed piece of content all ready to go. The heavy lifting was already done! He just needed to pretty it up.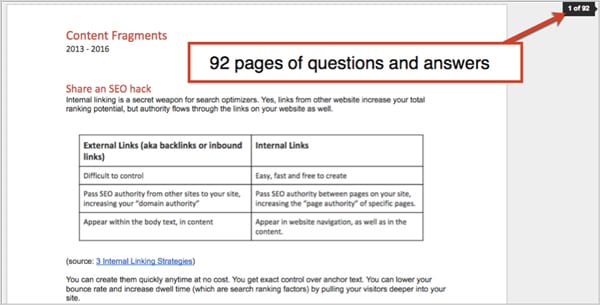 2. Stack your ideas
This is a genius idea from Brian Dean at Backlinko, where he calls it the Skyscraper Technique. Brian does an awesome job of explaining it over on his site, but in brief, it's this:
What I really like about this technique is that you don't have to come up with the idea yourself. Take inspiration from someone else and make it better. Add your perspective and knowledge to it and really make it your own. Sure, it's a lot of work to create this kind of in-depth content, but the original idea has already shown that it's a viable one and one worthy to write about. (Of course, you have to make the idea your own and not just plagiarize it. Definitely do NOT do that.)
When you reach out to people to let them know about your content, they may already have read the original piece and will be interested to see what you've added to the discussion. If you've done it right, they'll share the content with their communities too, opening up your information to a new audience.
3. Refresh an older piece of content for a new audience
That webinar you produced a couple of years ago has some great information in it, but it's buried in the nearly 90-minute session. Who has time to sit through the entire thing again? Well, clever marketers will wring out some more value from it by pulling the webinar's best parts and putting them into a new format. By changing the information's format, you'll get it in front of a new audience that may have missed it the first time. Or in front of an audience that doesn't like the original format (like me – I'm not a fan of videos).
This goes beyond the usual convert your webinar into a presentation or eBook, as I'm talking about those really old pieces of content that are still valid for your audience. Depending on your tech market, some ideas don't change that much, but your audience might. Michael Bergen, inbound marketer at Riverbed Marketing, suggests turning the original content into an offer item on the new content page, thereby "(helping) capture marketing qualified leads and double down on value."
4. Move your content to a different part of your funnel
Some content is obviously created for specific parts of your sales funnel. General, education pieces are more top-of-funnel items, while the in-depth product benefit discussion or industry thought piece are middle- or end- of-the funnel items. So instead of constantly recreating content for each part of your funnel or sales cycle, why not simply move a piece of content from one part of your funnel to another part? Some suggestions:
Package educational content and give it away to new customers: It may have been a while since your new customer saw this content and they may benefit from the refresher. Use it to position them for a training or support package upsell. Plus the person who may have read that content all those months ago at your new customer may not even be the intended users at that same company and so they never saw it in the first place. Get some new eyeballs on that helpful content.
Break out the hardcore, benefit-driven selling statements from your sales scripts and create new blog posts around those ideas: Prospects and general readers always want to know how your products can benefit them, yet if they have to become an official lead before they see it, they'll never know. So break out that content from the sales scripts and create a series of blog posts that shows off the value your products can really give them.
Turn your FAQ into a "Who we don't help" kind of FAQ: Marcus Sheridan of The Sales Lion does this with his own consulting firm, his pool fabrication company, and it's something he recommends to all of his consultancy customers too. As readers and consumers we're always self-selecting, whether consciously or not; we instantly know if a vendor is right for us or not. By creating this type of "who we don't help" page, you're focusing that self-selection even more to just the prospects you want to deal with. By the time they get to the end of that page, your reader already trusts you because you're speaking directly to them (otherwise they would have bounced to another vendor site by then), so selling becomes much easier.
Plan for Repurposing Content
Repurposing content should be the mindset for all marketers up-front, as it makes it easier to do going forward. But for those older pieces of content you created a while ago, there are still some great ways you can repurpose it and wring every bit of value you can out of it. Just shift it to a different format. Or a different place in your sales cycle/funnel. Or get it in front of a new audience. Well, you get the idea. There are so many ways you can repurpose content, it's just a matter of doing it.